Duane Andrews: Scoring for Film
Juno award-winning producer, composer, guitarist, Duane Andrews is an international performer, whose latest album, Conception Bay, the best evidence yet of his truly unique musical vision and the sound of him, literally, bringing it all back home. Uniting what would seem to be impossible – traditional Newfoundland music with the swing jazz of the legendary Django Reinhardt, Andrews makes it not just work – he makes it soar. His most recent award for musical score was for the film: Audience of Chairs, at the Atlantic Film Festival  (2018). Visit: duaneandrews.ca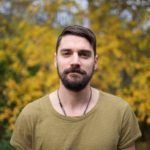 Tim Baker: On the Road Touring Tips

Best known as the writer and front-man of the much-acclaimed Newfoundland group, Hey Rosetta! Tim Baker was part of the Juno-nominated, Polaris-shortlisted, heavily-awarded band that's been creating poetic, powerful alternative music for over a decade. They've brought their sweeping, high-energy live show all over the world, year after year, playing major festivals, stadiums, theatres and clubs. Since the band's hiatus at the end of 2017, Tim has been face-and-eyes into writing and recording his upcoming solo record. But over the spring and summer he's also toured around his intimate solo-show, as well as a handful of larger festivals and engagements with his new ensemble. He's delighted to share his extensive knowledge of his second home, "the road", with you. Visit: timbakermusicnl.ca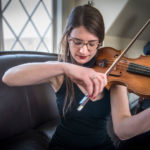 Carole Bestvater: Music Teaching and Private Studio Management

Violinist, Carole Bestvater, strives to share her joy of music with those around her. She is equally at home with diverse genres, maintaining a full schedule as performer and educator. As an educator, Carole is on faculty at the Suzuki Talent Education Program, and has been trained in Books 1-6 with SAA teacher trainers from across North America. As a performing musician, you are likely to catch Carole in a diverse range of performance settings. She is Assistant Principal Second of the Newfoundland Symphony Orchestra, and performs chamber music with the Strong Harbour Strings Collective. You can also find her playing and singing in various folk and folk-rock groups; playing a variety of styles including, Bluegrass, Irish, Newfoundland, Scandinavian, Old Time and Appalachian folk music. Passionate about equity, Carole founded the Strong Harbour Strings Program, an after-school music program based in the belief that communities can be strengthened through the learning and sharing of music. This program was designed to bring music education to families with restricted resources, so their children can experience the benefits of learning music. Visit: strongharbourstrings.com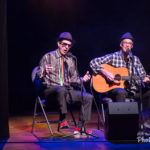 Buddy Wasisname: Keep it on Track

For 35 years, 'Buddy Wasisname and the Other Fellers' have been touring the country, liberally splashing their unique taste of Newfoundland in places far from home. It has brought them to more than 360 communities and major cities in Canada. The flavor of the Buddy experience is one of homegrown folk music, song and recitation, monologues and sketch comedy.  Kevin Blackmore sings, creates noise, and acts like a loon with rabies. He contributes to the song and comedy writing, plays guitar, mandolin bass, banjo and almost anything capable of producing sound if squeezed, shot, banged or broken. Kevin does technical design, booking, contracting and tour arranging from his own office. He has been booking Buddy Wasisname since their 1983 inception. Wayne Chaulk sings, plays the guitar and mandolin, and does a large part of the formal script writing. He does straight man and other character parts in their skits. Wayne writes both comic and straight songs and is well-known for his contemplative ballads. Wayne oversees record & dvd production and merchandising. With his wife Carolyn – the book keeper – they have maintained all facets of financial management of the business for over 30 years. Visit: buddywasisname.com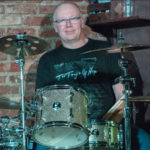 Robert Buck: Show Me the Money

Mount Pearl, NL-native, Robert Buck, has had a long and varied music career positioning him at the top of his field. He has been an active musician since the age of 15, working in radio, journalism and design. In 1989 he began in music retail, and in 1991 moved to distribution and manufacturing; spanning over 10 years in independent distribution and manufacturing as VP Operations with Tidemark Music and Distribution Ltd. He followed that with 12 years as regional director of Music Manufacturing Services Atlantic division (MMS Atlantic) and most recently as owner operator of Atlantic Disc. 

Robert is a former studio owner and founding partner of Avondale Music and consulted for the ECMA in building their automated website. He currently manages the successful traditional artist Rum Ragged.

 Outside of music, Robert has achieved his MBA and has a strong and active background in accounting, business practices and finance.

 He is past treasurer of the Music Industry Association of Newfoundland and Labrador  (2002-2003, 2015-2016), former ECMA vice chair (2002-2004) and has won four East Coast Music Awards as an independent music distributor. He is still an active musician. Visit: atlanticdisc.ca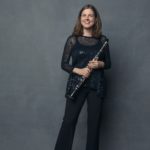 Christine Carter: On the Road Touring Tips

Canadian clarinetist, Christine Carter, has appeared at venues across the globe, from Carnegie Hall to the Sydney Opera House. Recent highlights include chamber music performances at the Mozarthaus in Vienna, Palffy Palace in Prague, the German Consulate in New York City, and a 6-concert tour of Germany with the Iris Trio. She has completed artist residencies at the Mozart Festival Würzburg (Germany), Málaga Clásica festival (Spain), Shenzhen International Woodwind Festival (China), and five seasons with the Dark by Five inter-arts ensemble at Gros Morne Summer Music in Newfoundland. Christine has also performed extensively as an orchestral musician, including engagements with the New World Symphony (Miami), Montréal Symphony Orchestra, YouTube Symphony Orchestra, and the Metropolitan Opera Orchestra (New York). Christine holds a Doctor of Musical Arts from Manhattan School of Music and is Assistant Professor of Music at Memorial University in St. John's. Visit: christine-carter.com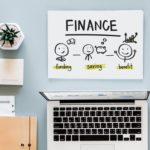 Boyd Chislett: Keep it on Track

With a decade of auditing experience after becoming a Chartered Accountant in 1994, Boyd Chislet, has been providing professional business valuation advice and independent reports for a variety of small and medium-sized businesses throughout Newfoundland and Labrador, Nunavut and across Canada since 2005. Boyd also performs contract accounting advisory and business planning to select businesses, as well as assurance services through a number of Chartered Professional Accountant firms. Visit: bvnl.ca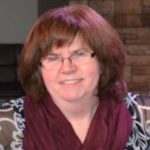 Caryl Clark: Music Teaching and Private Studio Management

A music educator for over 40 years, Caryl Clark, a graduate of the University of Toronto   (B. Mus.Ed., B. Ed.) and the Royal Conservatory of Music (A.R.C.T. in Performance), she was initially a high school teacher in Toronto teaching strings, band and mathematics. In 1980 she moved to Pembroke, Ontario, where she established a private studio, created a night school strings course, and played violin in orchestras in the Pembroke and Ottawa capital region. Caryl was assistant conductor and concert master of the Deep River Symphony, and founder and first music director of the Pembroke Symphony Orchestra. In 1995, Caryl moved to St. John's, and rebuilt her large teaching practice on piano and stringed instruments, including fiddle, for ages five to retired adults. Caryl's private students have won numerous awards in two provinces, including medals for piano and violin RCM exams at the Kiwanis Festival, and in the NLRMTA Scholarship Competition. In 2012, she was nominated for the MusicNL "Music Educator of the Year" award. Caryl is currently president of the Newfoundland and Labrador Registered Music Teachers' Association. Visit: studiocarylclark.com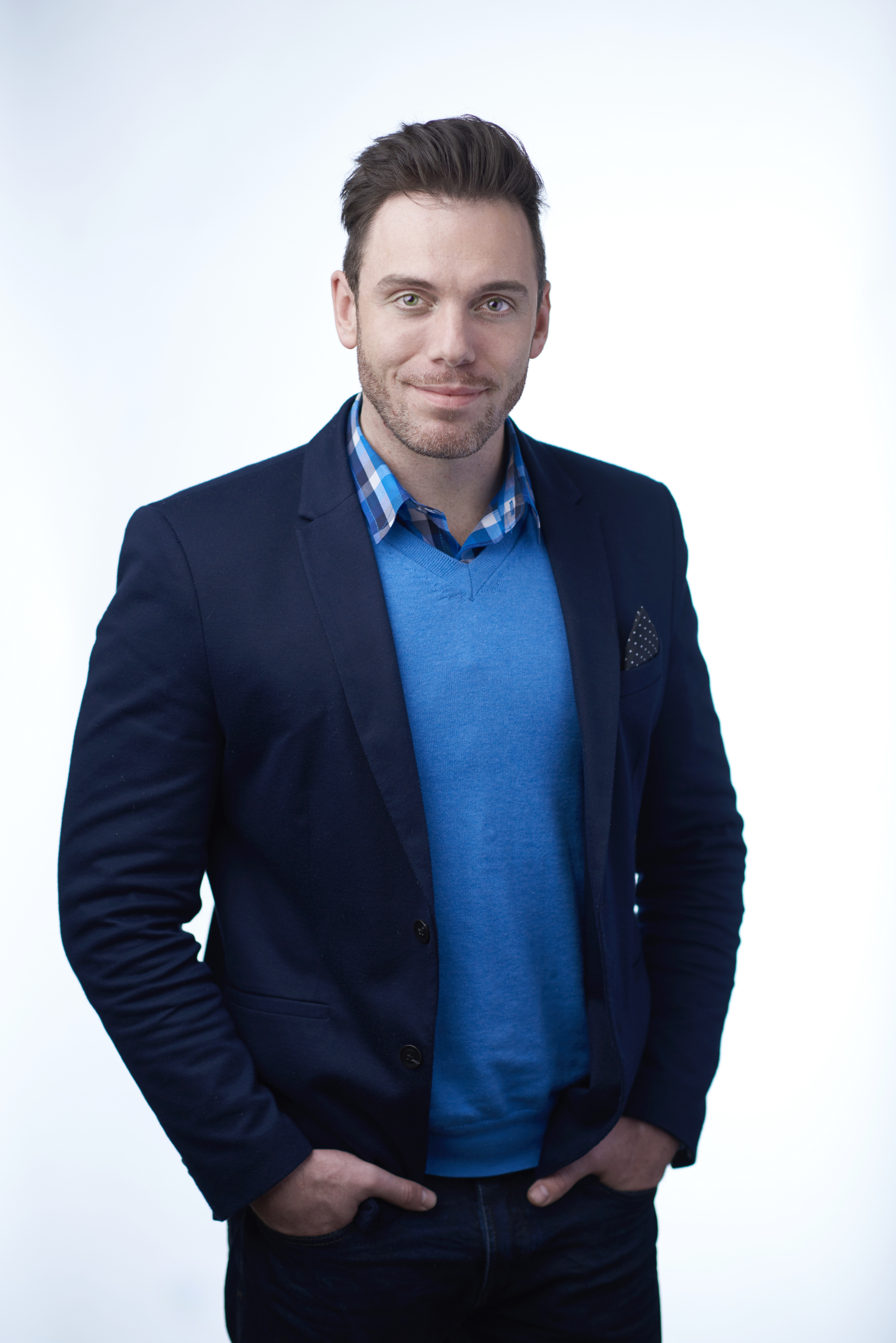 Don-E Coady: Expand Your Audience
Founding partner and Creative Director of Dc Design House Inc., an award-winning advertising and design company in St. John's, NL, Don-E Coady, is also two-term President of the Business Association of Newfoundland and Labrador. He is past director of the St. John's Board of Trade; co-founder of Mental Health Advocacy group 'It's Mental'; board member of the Boys & Girls Clubs St. John's; and mentor, marketing partner and host of TEDx St. John's. Volunteer of the year ('15) St. John's Board of Trade, MusicNL Volunteer of the year ('13, '17), Rotary Northwest Aidan Maloney's Young Professional of the Year ('15), 21Inc. Don-E was recognized in the 'Top 40 Under 40' emerging leaders in Atlantic Canada ('15) and is a GGCLC Alumni ('14). Host of 'Out of the Fog' – a local matters weekly show on Rogers and Eastlink networks across NL – Don-E is also a singer/songwriter, musician (709). He is an event emcee, and starred in EntrepreneurNL, a six-episode lifestyle-documentary about business and community, appearing on NTV, Rogers TV, Eastlink and streaming channels. Dc is forever looking forward to creating, contributing and communicating ideas and energies that help make our city and province great!  Visit: dcdesignhouse.ca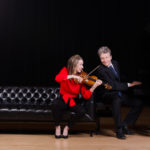 Nancy Dahn & Timothy Steeves of Duo Concertante: Expand Your Audience
Canada's premiere violin and piano ensemble, Duo Concertante, are partners in music and in life. Known for the passion and brilliance of their performances, critics have praised Nancy Dahn and Timothy Steeves' "artistry, poetry, and impeccable technique" (La Scena Musicale) and "deeply integrated performances that flow naturally as if the music were being created on the spot" (Gramophone). The Duo's busy touring schedule across North America, Europe, and China, has led to performances at Wigmore Hall, Weill Recital Hall, Roy Thomson Hall, the National Arts Centre, and the Forbidden City Concert Hall in Beijing. Nancy and Tim's ten commercial CDs include a 2011 JUNO award winner and the ECMA Best Classical Recording for 2017 and 2018. They are both Research Professors at Memorial University and Artistic Directors of the Tuckamore Festival, and elected as Fellows to the Royal Society of Canada in 2016. Visit: duoconcertante.com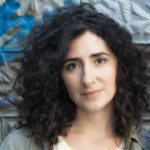 Rosalyn Dennett: On the Road Touring Tips and Scoring for Film
Rosalyn Dennett entered into the international music scene through her role as one of the founding members of the highly acclaimed roots quartet Oh My Darling, with four award-nominated albums, headlining multiple international/European tours, and countless shows across the country. Rosalyn has earned awards and accolades through her work performing & recording with the talented Ken Whiteley, Donovan Woods, Fred Penner, Kaia Kater, and many more. Her passion for the music industry lead her to work for MusicOntario, the Canadian Independent Music Association, Music Canada Live, and Music Canada. Her current role as Licensing and Outreach Coordinator at the Canadian Federation of Musicians assists musicians in making the most of their diverse revenue streams including, recording, touring, pension, sync & licensing. Visit: cfmusicians.org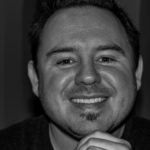 Scott Hammond: Ready, Set, Record

Musician, audio engineer, and educator from St. John's, NL, Scott Hammond, was a member of the band, Gearbox, 1995-2005. Gearbox released three full-length albums, toured Canada often, won several awards, and opened for some of the biggest bands in Canada and the United States. From 2004-2006, Scott was the in-house audio engineer for Newfoundland's own Great Big Sea and engineered Great Big Sea's The Hard and The Easy (JUNO nominated and certified Canadian gold). In August 2006, Scott accepted a position as co-ordinating instructor for CNA's Recording Arts Program (now Sound Recording & Production) located in Stephenville (now St. John's). Scott opened The Blue Room in 2008 – a mixing suite catering to artists all over Canada. Throughout his career, Scott's work has been nominated for over 150 awards ranging from MusicNL to JUNO and everything in between. Scott was named MusicNL's 'Industry Professional' and The Blue Room was named MusicNL's 'Outstanding Company' in 2015. Scott and The Blue Room received multiple nominations for ECMA's 'Studio Engineer of the Year' and 'Recording Studio of the Year.' Visit: bluemixingroom.com
Tim Hardy: Scoring for Film

Tim Hardy is the co-owner of Sound of Pop, an ECMA award-winning music publishing & master/sync representation company, operates an independent rights management / music consulting company based in Halifax, Nova Scotia (Aspenway Music) and previously worked with SOCAN for over 22 years in Toronto and Halifax. Sound of Pop Publishing currently represents 3000+ songs in a one-stop capacity for sync representation and/or publishing. The catalogue includes East Coast artists Chris Kirby, Tomato/Tomato, FM Berlin, Quote the Raven, Brittany McQuinn (bleum), Keith Mullins, Christina Martin, Chris Ryan, Fairgale, Brianna Gosse, Sherry Ryan, Andrew Waite and more. Other Canadian acts represented include Coco Love Alcorn, Candice Sand, Steven Bowers, The LYNNes, Andi, Runaway Angel and Jesse Peters. SOP also represents international acts Ume & Hydrogen Child (United States), Bettie Serveert (Netherlands), Voltaire Twins (Australia) and is the Canadian sub-publisher for the US-based company Figure and Groove.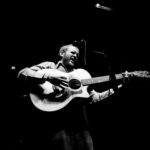 Matthew Hornell: On the Road Touring Tips

Singer/songwriter, Matthew Hornell, is aware that the muse often directs the master. Ideas and emotions both personal and universal are channeled throughout 'Have It All' his sophomore, soulful folk album. Accompanied by an amazing group of musicians and gorgeous, soothing female-backing vocals, Have It All, is a record of spiritual awakening. Matthew Hornell won a plethora of MusicNL Awards for his CD debut; his lyrical content diverse, arrangements succinct and vocal delivery unquestionably honest. Matthew Hornell wears his authenticity like a badge of honor. Visit: matthewhornellmusicnl.ca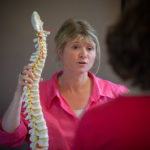 Jennifer Johnson: Limbering Up
As principal second violinist of the Newfoundland Symphony Orchestra and second violin of the Atlantic String Quartet from 1993-2004; after a playing-related injury in 2004, Jennifer Johnson, studied the Alexander Technique and trained and licensed in Body Mapping with Founder Barbara Conable. She now gives workshops internationally, teaching musicians to move according to the design of their bodies to address and prevent playing injuries. Jennifer has been on faculty of the New York Philharmonic's Zarin Mehta Program and has presented Body Mapping workshops to orchestras and festivals, conferences, and music schools, including the The Finnish National Opera and The Tuckamore Chamber Music Festival. She was a keynote speaker at the Australian String Teachers' Association 2015 Conference, and teaches workshops and lessons at MUN, while maintaining an active private studio and performing regularly. Jennifer has written two books on Body Mapping: What Every Violinist Needs to Know about the Body and Teaching Body Mapping to Children. Her books have been translated into French and Japanese. Visit: jenniferjohnson.co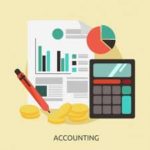 Doug Kirby: Keep it on Track

An Experienced Chartered Professional Accountant with a demonstrated history of working with successful owner-managed businesses, Doug Kirby, has strong business development skills in Tax Preparation, Business Planning, Analytical Skills, Accounting, and Income Tax. Visit: linkedin.com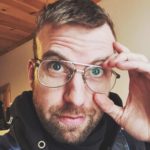 Elling Lien: Ready, Set, Record

St. John's-native, Elling Lien, has two primary goals in life: laughing and encouraging people to make stuff. He is currently the Executive Director of the Nickel Independent Film Festival and volunteer Executive Director of the creative nonprofit Unpossible NL, which runs programs such as the RPM Challenge in Newfoundland & Labrador, the Podcast Jam, and the Stand-Up Challenge. From 2006 to 2014, he was editor and co-owner of the alternative St. John's newspaper The Scope, but he's probably known to most people as 'That Guy Who Had a Miniature Bar for Birds on his Balcony'. (Junco's Pub) Visit: unpossible.co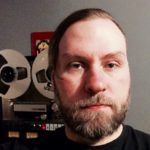 Steve Lilly: Ready, Set, Record
Audio engineer, Steve Lilly, of St. John's, NL, has been working as a freelance engineer for the last twelve years. He is constantly building strong relationships with artists and helping create fantastic aural experiences for audiences. He has worked with a diverse assortment of musicians from classical artists [Boston Symphony Orchestra, Duo Concertante], to rock bands [Kujo, Hey Rosetta], folk acts [The Fortunate Ones, Matthew Byrne], jazz artists [Jeff Johnston, Roy Patterson] and every genre of music in between [Ouroboros, Deadgaard, Shallaway]. Steve has worked as recording and mastering engineer on many award-winning and award-nominated albums for local, national and international artists.Always working alongside the artist to get the best performance; Steve is trained in the Tonmeister style of audio recording. He has held audio engineering positions at the Tanglewood Music Center and the Banff Centre, and is a graduate of the Masters of Music in Sound Recording program at McGill University [May 2009]. He is currently working as the Music Technology Specialist at Memorial University of Newfoundland's School of Music. Visit: mun.ca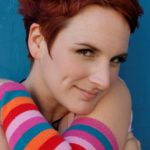 Rozalind MacPhail: Expand Your Audience and Scoring for Film
Gemeinhardt International Touring Artist, Rozalind MacPhail is one of the world's most buzzed-about flutists. An innovative leader in flute looping and live film scoring, this classically-trained flutist explores new ways to combine image and sound, in works that speak honestly of place, person and the human experience. MacPhail combines live loops with recorded, manipulated sounds as she performs her emotive songs to contemporary silent film through Ableton Live. She recently took home an East Coast Music Award for "Electronic Recording of the Year" and nominated for four MusicNL Awards. MacPhail is producing her seventh album, GET YOUR FLUTE ON, to be released in 2019. Based in St. John's, Newfoundland, MacPhail is an active performer, film composer, session player, music educator and Executive Director of AFM/CFM Local 820. Visit: rozalindmacphail.com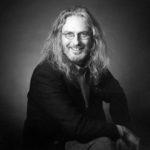 Sandy Morris: Scoring for Film

Known to his musical friends as "the easternmost guitar player in North America", Sandy Morris, is an accomplished and multi-talented musician, producer, and engineer based in St. John's, Newfoundland. Picking up his first guitar at the age of 15, Morris has made his living as a versatile and ingenious performer since 1965. An original member of the legendary Wonderful Grand Band, his more recent collaborations include Rasa (with Erin Best), and the Eight Track Favourites. Sandy Morris has contributed his own compositions, performances, and musical expertise to film and television projects for more than 30 years. His credits include serving as musical director/producer for Land and Sea, Violet, Tommy, East Coast Music Awards, and Codco, among many other projects. In addition to his own projects and featured appearances, he continues to perform with numerous other musicians on their recordings and live performances. Visit: sandymorrismusic.ca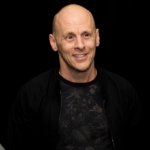 Rodney Murphy: Show Me the Money

Director, A&R for SOCAN, Rodney Murphy, has been working on behalf of songwriters, music publishers and AV composers with SOCAN for the past 15 years providing creative support and music-industry knowledge in an effort to maximize the performance royalties and career opportunities for its members. Before joining SOCAN, Rodney has worked for Sony Music Canada, BBC Radio 1 in London, UK and CKCU FM in Ottawa. Rodney is based in Toronto. Visit: linkedin.com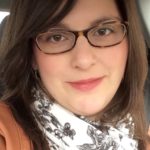 Michelle Robertson: Expand Your Audience

Artist manager, entrepreneur, and educator, Michelle Robertson, lives in St. John's, and has co-managed some of Newfoundland's best and brightest musicians, including JUNO award-winners The Swinging Belles, as well as earning several nominations for both herself and Kilbride Music along the way; (ECMA Management of the Year, MusicNL Outstanding Company, MusicNL Industry Professional of the Year). Since 2014, Michelle has been steadily growing Feedback Music Consulting – an artist development company servicing local, regional, and national artists. Michelle is an instructor at College of the North Atlantic (Applied Arts), and Executive Secretary of the ECMA Board of Directors. Visit: kilbridemusic.ca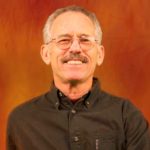 Dan Rubin: Keep it on Track and Show Me the Money
Composer, songwriter, music producer and arts manager, Dan Rubin, moved to Newfoundland fifteen-plus years ago, prior to, he performed, toured and recorded in Western Canada. Dan has released twelve albums of original music and currently performs with Dave Panting as Tanglecove, and as a member of the folk trio Atlantic Union. Dan ran a concert series in St. John's for several years and served as president of CFM's Local 820 for six years. He is owner of the arts management company, Second Stage, and operates record label, Blue Islands Records. For more than a decade, Dan has been providing support for other artists to help them build their careers. Dan has been involved in musical rights administration, copyright and the changing landscape of music royalties for four decades, and has become a strong advocate for improving royalties for digital music use. Visit: Second Stage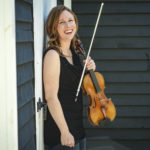 Lauren Smee: Music Teaching and Private Studio Management

Violinist, Lauren Smee, has a love of playing that fuels her teaching and a love of teaching that informs her performance. As a member of the Newfoundland Symphony Orchestra, Lauren has enjoyed the opportunity to work with artists such as, Andre LaPlante and Mark Fewer. She regularly plays in the Opera on the Avalon orchestra and is a member of the Watershed Ensemble. As a singer she enjoys performing with the Quintessential Vocal Ensemble. Whether on stage or in the studio, Lauren is passionate about preventing playing-related injury; as an Andover Educator she educates musicians on how accurate information about the body in movement can enhance both music pedagogy and musical ability. Lauren enjoys teaching with the Suzuki Talent Education Program of St. John's, where she served as Artistic Director from 2014 – 2016. She has been on faculty at the Atlantic Canada Suzuki Institute and in 2017-2018, Lauren was the Project Coordinator of Memorial University's Chamber Music for Youth program. Lauren holds degrees from Wilfrid Laurier University (Honours B.Mus) and Memorial University of Newfoundland (M.Mus in Violin Performance/Pedagogy) and is grateful to her principal teachers, Dr. Nancy Dahn, Jennifer Johnson, Jerzy Kaplanek, and May Ing. Visit: suzukinl.ca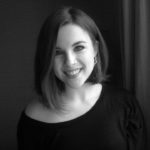 Tiffany Pinhorn Smith: Music Teaching and Private Studio Management

Teacher, pianist, singer, and business-owner based in St. John's, NL, Tiffany Pinhorn Smith, holds B. Mus in Piano from Memorial University, where she studied piano and pedagogy under Dr. Maureen Volk, and is a certified Piano Teacher Specialist with the Royal Conservatory of Music. In 2016, Tiffany and her husband opened their home-teaching studio, Unison Music Studio. Since its opening, Unison Music Studio has become a thriving studio serving students of all ages and levels. Tiffany is General Manager and one of the original Artistic Team members of PlayPianoNL, a not-for-profit organization that was created to foster a supportive community of pianists in Newfoundland and Labrador. Through her work with PlayPianoNL, Tiffany has had the opportunity to plan, teach, and serve as a clinician in educational events such as PianoCamp and PianoFest. As an active member of the music-teaching community in NL, Tiffany is Vice President of the Newfoundland and Labrador Registered Music Teachers' Association and has hosted a number of Private Teacher Meet-ups organized by the Canadian Federation of Musicians Local 820 Branch. Visit: unisonmusicstudio.ca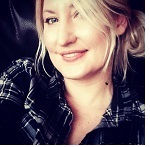 Julia Train: Show Me the Money

With her training in classical piano and love of music, Julia Train, attended the Harris Institute for the Arts, where she studied Recorded Arts Management and so began her history within the Canadian music industry. Shortly after graduating, she went to work for the CMRRA's Royalties Administration department. Julia was a valued member of the FACTOR team from 2008-2011 as a Submissions Coordinator and Communications Manager. Currently, Julia is the Senior Manager, Communications and Outreach at the Musicians' Rights Organization Canada (MROC) ensuring that musicians receive the recompense that they are entitled. She is also on the Board of Women in Music Canada. Julia is proud to have the opportunity to help the arts, and artists, in Canada and around the world. Visit: musiciansrights.ca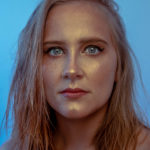 Meg Warren: On the Road Touring Tips
Songwriter and musician from Grand Falls – Windsor, NL, Meg Warren, has been writing solid pop hooks for nearly a decade. In her previous band Repartee, she initially took on the roles of musician and artist, but also manager and booking agent, booking over a hundred shows independently until they signed with a manager/agent in 2015. During her time in Repartee, she criss-crossed all over Canada, performing in arenas with Mariana's Trench and Shawn Hook, to sharing festival stages with Weezer and Ok Go, to grinding it out in the bars. Repartee swept the MusicNL awards in 2012, and again in 2016, winning nine awards. When Meg came to the band in 2016 with a song idea called 'Dukes', she never have imagined it would become the most added song, across all-radio formats throughout Canada that year. Meg is currently brushing up on her production chops and working on new music as a solo artist. She's planning to release an EP in the summer of 2019. Visit: @megmariewarren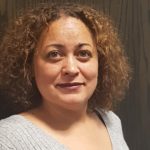 Liana White: Ready, Set, Record and Show Me the Money
Executive Director of the Canadian division (CFM) of the American Federation of Musicians of the United States and Canada,  Liana White, has over 20 years in the industry. She has provided an array of assistance to professional musicians, ranging from general advice to contract protection; most specifically, White's vast artist-immigration knowledge is often relied upon by mainstream media and the Canadian music industry. Visit: cfmusicians.org
Susan Whitfield: Ready, Set, Record and Show Me the Money
Susan Whitfield is the Director of Administration of the Canadian Federation of Musicians. Whitfield has worked for the CFM [then AFM Canada] since 2005, starting as a part-time administrative assistant, has worked with cross the border immigration authorities, communicates with authorities on both sides of the border, also assists the executive staff with governance matters, as well as in residual payments, and supervises
the national office.